We've made it safely to Staunton, Virginia, where we will be spending the next week and a bit with Kathy's sister Karen, her husband (and my college buddy) Jeff, and their passel of delightful young ones.
The trip up was much more pleasant than I'd feared. On Saturday we made it from San Marcos to New Orleans, an 8 hour trip we somehow managed to squeeze into a mere twelve hours. Our slow progress was due in part to holiday traffic (apparently tailgating and cutting people off is just another way of saying "Happy Holidays" in certain parts of the country — who knew?), and in part to the fact that I had loaded up the GPS with a database of Offbeat Tourist Attractions before we left, which resulted in a small detour in Beaumont, Texas to see the third largest fire hydrant in the world. Right next to it was a surprisingly excellent Fire Museum of Texas, which is not open on weekends, but which we managed to tour anyway by dint of inadvertently crashing a child's birthday party.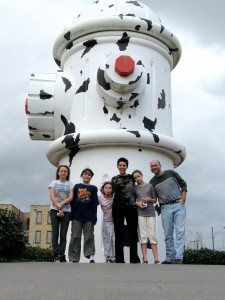 We spent an enjoyable day in New Orleans, poking our heads into various shops, riding the streetcars, visiting an art fair, listening to a few street musicians and other buskers, avoiding the seamier bits of Bourbon Street, and of course having some beignets at Cafe du Monde and creole food for dinner.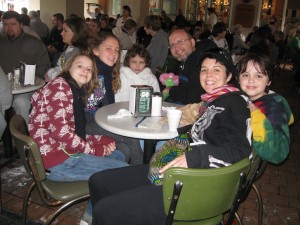 After everyone else had tuckered out and decided to head back to the hotel, I walked back to Jackson Square to participate in the annual Carol Sing, which happened to be going on that night. I joined about 8,000 others thronging into the fenced square to sing a mix of carols led, as far as I could tell, by Ethel Merman and David Sedaris. As the gathered attendees struggled to keep their candles alight in the frigid gusts, I was struck by what an quintessentially New Orleans event this never-wholly reverent, jazzed up collaborative mix of cooperation, inebriation, brassiness, flamboyance, music, and religion was. It was a classic Big Easy experience.
The next morning we were on the road at 6:00am, and rolled into Staunton just after 10:00pm, with Kathy and I taking alternating two-hour shifts at the wheel. The kids did a spectacularly good job weathering the trip (made perhaps easier by the borrowed van with the television in the back), and we are looking forward a great deal to our next week here!
BONUS TRACK: Please enjoy my brother Chris (who is an accomplished surgeon) singing There's No One as Irish as Barack Obama, originially by the band with the best name in the history of all music, Hardy Drew and the Nancy Boys.