A few days ago, I twittered that the world's ugliest coffee shop had opened down the street from us. My friends Ron and Heather asked for more information and challenged the shop's honorific, so I hereby offer these two photos, snapped hastily this morning on my way to work so that the proprietor wouldn't know that her establishment was being surveilled by the aesthetics police: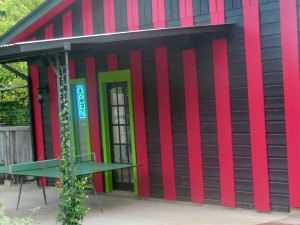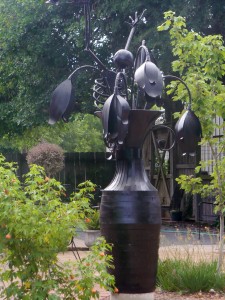 The color palette in the first photo was the first thing that tipped us off that the transgression to the eye might surpass mere quotidian ugliness and burst through to something extraordinary.  The Dia de los Muertos meets The Nightmare Before Christmas sculpture below is 8 feet tall, the centerpiece of the courtyard, and quite visually arresting as well. Taking these things together, I think the title of "World's Ugliest Coffeeshop" is a lock.
That said, I believe that ugly was the goal. It is an artful, calculated awfulness, very much in keeping with the name of the place: Wake The Dead Coffee House. And I must say, the place is great. It's the second coffee shop in San Marcos (after Tantra) that has really embraced the full English Pub suite of amenities, with nice indoor and outdoor areas, a good selection of beers in addition to the coffees and teas, a ping pong table (plywood, sadly), a projector set up for watching movies, and a music room in development. Where Tantra, however, has a hippie vibe, this one has a bit more of a punk/goth thing going (though neither are too aggressive about it). I'm delighted to have a place within walking distance (about 5 blocks) where I can bring a guitar and have a tea. (Hibiscus mint, one of my favorites, was on offer when we stopped by.) If you live in San Marcos, come check it out!